"Hey mate! How are y—" "I'm doing dry July!" 
This is generally how conversations run around this time of year. When someone is doing Dry July, you're bound to know about it, even if you didn't ask. Onya, mate. Want a medal?
Luckily, our good friends at MoshPit Bar in Erskineville are here to help drown out those incessant cries of attention-seeking soberites. Relatively new kids on the block, the MoshPit team have created a sanctuary of locals for locals. The bar plays host to local community bands, and has local beer on tap. In a neighbourhood of hipster hideouts, this grungy dive bar is welcome addition.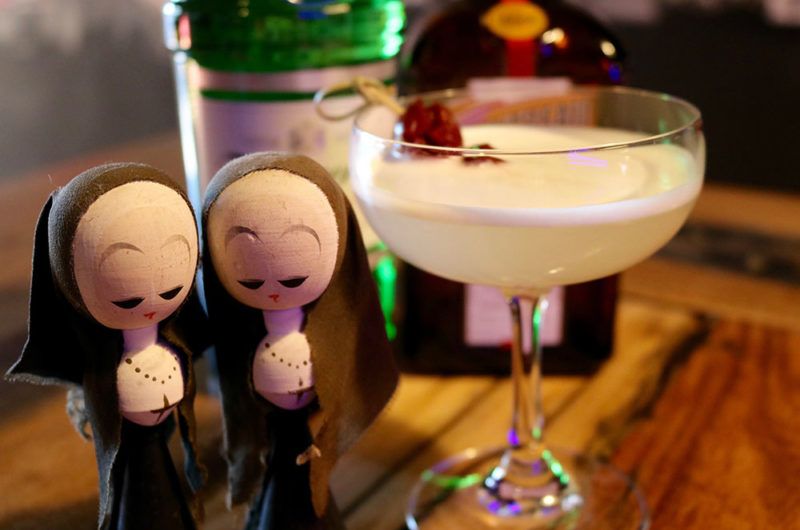 In conjunction with the King Street Theatre's latest show, Acts of Faith, the creative team at MoshPit have concocted two brand new cocktails for theatregoers to enjoy:
The White Nun – as saucy as it is celibate!
Gin, Cointreau, Lemon Juice, Egg White (or vegan-friendly Gum Syrup) shaken, served in a frozen coupette glass and garnished with a Maraschino cherry.
The Dastardly Developer – delivers on its promise, surprisingly!
Whisky, Young Henry's Cloudy Cider, Lemon Juice, prepared in an Old Fashioned glass filled with cubed ice and garnished with a slice of apple.
The show, Acts of Faith, is a new rom-com by Melvyn Morrow. Two interesting characters form an unlikely alliance – a shonky property developer and an enterprising nun. But they do have one thing in common: drama. Real Estate and Religion are widely recognised as two of the most theatrical workforces around.
So get your annoying teetotal friends out of their caves of sobriety this July – for how else can you conquer having no alcohol but to hide yourself away, withdrawn and shivering? – and coax them back into the real world by offering cocktails and theatre.
They'll thank you for opening their eyes to the error of their ways, apologise profusely for being such a git, and swear never to be so foolhardy again.
Achievement Unlocked: Combating Dry July.